Primetime News Anchor : A Political Satire
Written by Abhishek Gaurav for Techkriti Blog for a Cause
This is an imaginary satirical account of a news anchor. All characters appearing in this work are fictitious. Any resemblance to real persons, living or dead, is purely coincidental… Or is it ???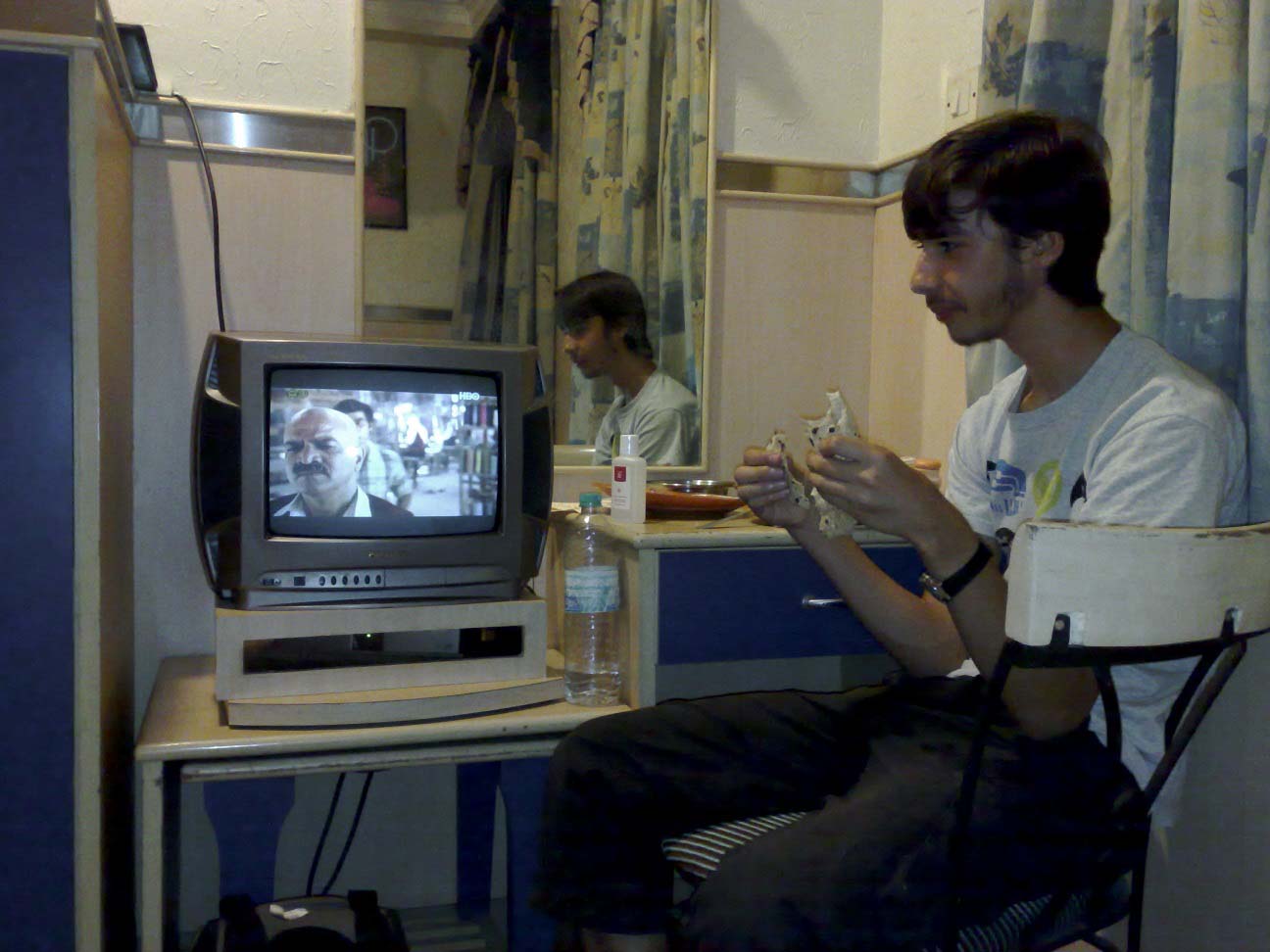 Three months ago, I was promoted to the post of Senior News Anchor for the DoorDarshan News Channel, after years of dedicated work. The pity was that it was not my dedication but the resignation of a former 'primetime' news anchor on the same day that landed me with the job. He had quit the job to better serve the country by volunteering a party in its dharnas and by managing their press conferences.  Nonetheless, I was more than happy to enter the living rooms of people all over (urban English-speaking) India at 9pm every night. Moreover, I was assigned to cover the political debates where I had to ask tough questions; but whose answers were already ready.
The first debate was on the issue of creation of a new state 'Telangana'. The esteemed panelists for the night included – an eternal youth icon IITian-cum-IIM graduate-cum-banker-author-screenwriter, a Social Media expert and extrovertly eloquent spokespersons from major political parties whose presence was mandatory irrespective of the topic of debate. They hurled their opinions and accusations at one another with utter scorn and no logic. The debate was so heated-up that my attempts to heat it up more failed every time. Even my trump card of comparing the electoral politics being played by Congress over Telangana with the 'divide-and-rule' policy employed by Lord Curzon in 1905 during the Partition of Bengal was lost amidst the clamor. The programme team congratulated me on my spectacular 'primetime' debut; as I skillfully brought out 'Breaking News'-material from the honourable guests who were recorded defending Narayan Sai's sexcapades during the commercial break. I rushed home hoping to be welcomed by my exuberating family members. Instead, I found my wife was suitably standing in the familiar position facing the gas stove, and my son languishing on the sofa with the remote in his fist.
Well, they must have missed the show. "You spoke well, Daddy," my son said nonchalantly while watching India TV new channel. "So, you watched it?" I enquired trying hard not to sound excited. "No, I just watched the initial couple of minutes. It was really boring. And did someone trick you into believing that your microphone was not working. You were so loud that mom thought for a moment that you were home." I pulled myself out of the pangs of misery I was sinking into and awoke to the truth of my eternal anonymity. I forced myself to watch the mundane news channel where retired ministry officials and old polity critics were discussing the role of West Bengal government in tackling trade obstacles and insurgencies on the border, its influences on National Foreign Policy on Bangladesh and the evolution of Centre-State relationships in India. The panelists were all hands-in-glove with each other; no rebuttals, no out-of-turn shouting. Yet, my son, like all of (urban idle tech-savvy) India was watching the show every day who swiftly tweeted his analysis of the day's political happenings. I guess we will also have to follow this path of fake civility since we are a private-funded channel now which may run into bankruptcy.
A month later the eye of the DD News crew was on Delhi. We had toned down our coverage, with strict rules of not covering more than 49.5% of the screen space by flashing 'Breaking News'. We had inside information that all the top–rated sober news channels, such as; India TV and Times Now would be broadcasting the election results live throughout the day. After being unable to catch hold of any 'Election Expert', we were forced to catch random people on the streets for expert comment.  On the question of who do you think will win the elections, a man answered, "It does not matter who wins, but whoever is elected as MLA in my constituency, I will pressurise him through applications and demonstrations so that he lives by his manifesto." So, we left the utopian guy immediately, and asked the next chap , "Which one do you believe will save this country from the ills of the nature – NaMo's 'Good Governance' Model , RaGa's 'Inclusive Growth' or Kejri's 'Jan Lokpal'?". The answer came, "If I and you do our works sincerely, then we do not need anything more. One man at the top will not come with a magic stick and change everything. The villagers, the manufacturers, the servicemen, the professors, and the scientists- everyone will have to work together." The people were talking totally absurd. Another guy when asked whether the country is ready to forgive Narendra Modi for his inaction during the 2002 Gujarat riots answered, "Sir, it was international political conspiracy against him. People are not fools. Just like the post-Babri riots was blamed on BJP and the 1984 anti-Sikh riots were blamed on Congress. Sir, the public are very clever. We voted Congress immediately into power in 1984 after the riots, and the BJP in Gujarat also got clear majority in 2002. This time also, we all will vote Modi into power."
Well, we found out that the nation was not interested in Delhi as well. The private news channels were busy airing popular shows – 'Urdu Khabren', 'News for Hearing Impaired', 'Khel Samachaar' and the likes. Our TV ratings have plummeted even more. The investor is lowering our salaries. Many are quitting their jobs to register online for dharnas organized by the government in order to demonstrate the power of democracy. We have become highly objective in our approach to appeal more to the masses. We ran the Devyani strip-search story less than 20 times a day, and the sexual harassment cases by a top journalist and a Supreme Court judge with even lesser frequency. The social media is also very happy. Well-mannered substantive dialogues are taking place among the netizens on profits the nation is sure to derive from the logjam created in the parliament by the Third Front and Fifth Front. What is happening to this country? Why has every one become so level-headed at once? Where has the fickle-minded nature evaporated?
Alas! I have also submitted my resignation today. I will now sit at home with my son, watch India TV and post a hundred comments daily on Social Websites.