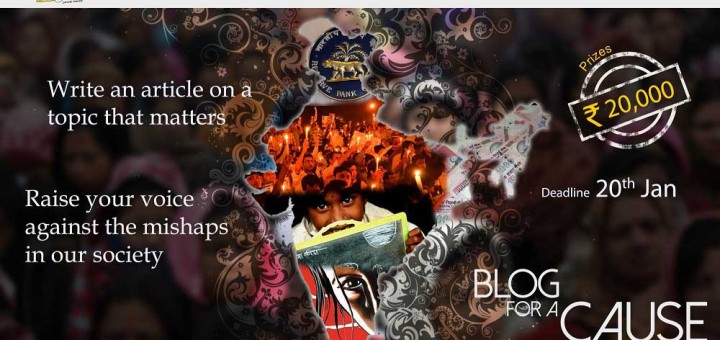 Techkriti Blog for a Cause

The Contest is closed.
"If you would not be forgotten as soon as you are dead, either write something worth reading or do things worth writing. " –Benjamin Franklin
It is said that a pen is mightier than a sword. The most powerful weapon are and shall always be words. Words that have caused revolution, brought down empires, started and ended wars, given hope, broken hearts and made history.
It is to honour the power of words that Techkriti in association with Social Scribblers organised Blog for a Cause contest to give voice to the unheard.
By this initiative of Techkriti'14 and Social Scribblers we wish to infuse into the minds of the college students a fire to write about responsible issues and use the internet and social media to bring a youth awakening. Write and share your opinions. Be the change!
You can go through all the unoriginal entries here.
Evaluation:
Judging was based on the creativity, quality of idea, thematic relevance, originality and social impact.
Judge:
Usha Narayanan: She is the author of the campus thriller The Madras Mangler. She taught English before moving on to become a copywriter and creative director in several advertising agencies, including RK Swamy/BBDO, one of India's top ten. Usha worked in Radio City 91.1 FM, creating their launch identity in Chennai. She managed corporate communications and CSR activities in Scope International, Standard Chartered Bank.
Topics
"We Do Not Inherit the Earth from Our Ancestors; We Borrow It from Our Children." Keeping this philosophy into account how can we make sustainable development in the world
"The hand that rocks the cradle rules the World." Write about a particular issue concerning the position of women in today's society.
"90% of children in India don't go for College Degree." How far have we progressed in terms of Education and what can be done to improve the scenario?
Pick up a Non-Governmental-Organisation working for a particular social cause. Write about its objectives, its progress so far and what are its plans for the future.
Write an article on Section 377 of IPC that criminalises Homosexuality and tags it as "unnatural".
Keeping in mind the recent developments in our country, write a political satire.
Important dates:
Competition began: 1st Jan 2014
Deadline: 10th Feb 2014

(OVER)
For any queries feel free to contact us via E-mail or Tweet us or message on Facebook. Looking forward to your enthusiastic participation 🙂