An Unworthy Technological Hype: AADHAR or NIRAADHAR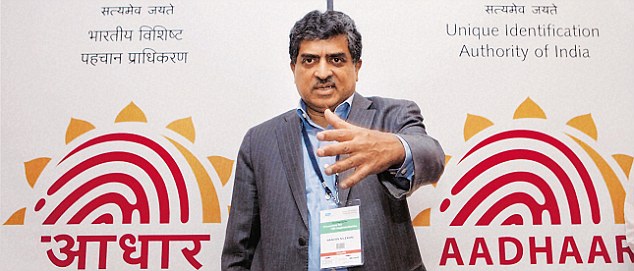 In this rapidly changing information age, technology is considered by many to be the answer to most of world's problems. The Aadhar scheme by Indian Government is an ambitious project to consolidate the available information of 1.2 billion Indians containing biometric and other data. The Unique Identification Authority of India (UIDAI) established under Planning Commission is the agency responsible for implementing this scheme. No matter how cool the government tries to play in building the largest digital database till date, a closer look will reveal numerous shortcomings and irrelevancy of its objectives.
The very fact that the Government is desperately trying to convince the people of the successful outcome of the ongoing UIDAI project can be interpreted as an open confession for messing things up. It is an acknowledgement that India as a nation has failed to check large scale corruption, remove economic disparity, provide targeted subsidies and solve health problems. Now, for a common citizen of this country like you and me what promises can it actually fulfill?  Prominent MP, Mr. Rajeev Chandrasekhar has been repeatedly struggling to call for an open discussion/debate on this UID bill. He even sent an open letter to the PM and FM pointing out the major flaws in this unplanned venture and urging them to reconsider the decision on this project. Unfortunately despite his persistent efforts, the government seemed to have turned a deaf ear to his arguments.
Let us briefly scheme through the promises made to us by the government and how horrendous they will sound after a close analysis:
Privacy! What's that?
Do you remember how few months back Edward Snowden caused a furore after publicly exposing the US government that has been spying on its citizens, diplomats and even dignitaries outside US? Aadhar will collect people's data and store them in a centralised database system. Who gives the guarantee that the data will not be mis-used by the authority? In a country which does not have strict privacy laws, we are left more vulnerable to threats that may arise because of the digital information that we decide to submit. This may lead to a very dangerous scenario where a slight disparity in the data will result in the account holder being treated as a potential criminal. We will not have any option as that will be made mandatory for having a recorded existence as a citizen of India.
Can Aadhar really stop fake identities?
The marketing team behind the Aadhar project has been deceiving people by giving the false impression that it will help in giving an identification to the unidentified. As a matter of fact, this way far from the truth. Aadhar merely takes the existing IDs (voter's card, ration card, passport, etc) and maps them to the account holder's biometric information. Thus, if a person had any fake identity, he/she will continue to have that identity with the newly incorporated feature of biometric data that is just a technological show-off.
Since Aadhar in no way verifies the identity of a citizen, it is being openly issued to illegal immigrants and refugees. This pose a serious threat to national security as terrorist groups may infiltrate and more easily produce a fake identity. In a recent Meeting of the Parliamentary Standing Committee on Finance, Mr.Rajeev Chandrasekhar asked the UIDAI – of all the Aadhaar numbers issued, how many are citizens and how many are non-citizens – and the answer was – "we don't know".
Is Aadhar's budget justified?
The estimated budget of Aadhar project is approximately Rs.18,000 crore. Although, this is a small fraction of the total wealth that had been eaten away in scams, still such a humongous expenditure of taxpayer's money is totally unjustified, when its benefit is almost nothing.
The detailed incurrence of this loss was rightly pointed out by Mr. Chandrasekhar in the open letter he wrote to the PM. He mentioned that the country currently has 1.2 lakh ATMs and 10.30 lakh card swiping /PoS machines. Over 2 lakh PoS and 20,000 ATMs are expected to be added this year. All these will require facilities to scan fingerprints/iris and that is going to increase investment costs by banks manifold. No doubt this will be an extra burden on the millions of customers having bank accounts.
Between 2004 and 2007, several ATMs having biometric feature were launched in this country. However, these machines failed to authenticate the biometrics of many underprivileged citizens and were finally discarded. It is not that we have made significant technological progress in the past five years and are on our way to repeat the same mistake. If a wise nation ought to learn from past experience, then surely the government is not making a smart move here.
Does Aadhar really help in improving targeting of benefits and subsidies?
One of the primary objectives of Aadhar is to identify targeted citizen who are entitled to specific benefits like ration and reduce leakage due to corruption. But since the information used in providing these subsidies will be only a consolidation of previously existing data, there is no way to improve allocation of subsidies. The UID has not revealed claims to prove its theory of preventing corruption in this case. So again, it is an extra financial load on the taxpayers.
Although the publicised mantra behind this scheme is
development
but it will finally lead to easy monitoring by the government and intrusion into one's privacy. It is not only going to fail in preventing fake identities but will make the lives of illegal immigrants much easier. In a nutshell, it is an enormous wastage of public money for nothing worthwhile.
An interesting fact to note is all those who have not fallen prey to this unnecessary hype seems to understand the shortcomings. It is high time that we open our eyes to logic and not be carried away by the glamour of such pseudo-innovation. The truth is we are not in a position to implement this project effectively when there are innumerable developmental issues that need to be addressed immediately. This huge expenditure of money to fulfil an irrational ambition, as if money grows on trees showcases the government's little understanding of developmental priorities.
Share this with your friends, co-workers, and family who need to be extra-cautious when it comes to privacy in this time of unpleasant mass-surveillance. It is an earnest request from a common man of this nation, to no let these unreasonable spending go unchallenged. See beyond what is being shown and raise your voice.
REFERENCES:
The Hindu: What the UID conceals
NY Times: Scanning 2.4 billion eyes
The UID: Gamechanger or Hype – Rajeev Chandrasekhar
Full Letter of Rajeev Chandrasekhar to PM