Why should always 'Majority' be the winner?
As and when election is round the corner, we hear everyone from the political class speaking on rights of the minorities. How does one define minority? There's no sharp definition found anywhere, in just simple words, those who constitute less than 50% of the population. That was simple. In fact way too easy to accept it. The whole exercise of dividing into categories of 'majority' and 'minority' is very problematic. Why should anything which is 'less' be valued 'lesser' ? On the one hand we have begun talking about individuality and need to respect each one of us, on the other we are still entangled in this web where 'domination' of number rules the roost. This is exactly where emerges the root cause of injustice to 'one' while 'privileges' to the other. We always tend to present our research findings in terms of percentages and proportions and conclude using the emerging trends, essentially pointing towards whatever is at the higher side. Can't we just change the rules? Isn't that one percent or one person or whatever has the right to be heard or to be given heed?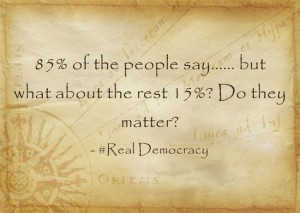 I vote for somebody but nobody else does, obviously my preferred one loses, how meaningful would such a democracy be to me? This is something observed in different forms and manners in so many areas. To be frank, even I earlier thought of searching for some statistics and all that stuff to arrive at something that had been lingering over my mind for quite sometime to pen down. I have had connection with 'rare' on a personal note and otherwise as well, which just made me question this whole thing of measuring value and significance of anything and everything with quantifiers. While I am here talking again in broad terms of this particular tendency of our 'way' of things, it would be precise for me to highlight the issue of rare diseases in India.
So, I am not going as might be expected into number of such diseases…what they really are… they are just something which have had not been larger population or may be many which are undiagnosed or even unrecognized. The critical issue here is of that there are so many such diseases or even fewer but have not been given much or we may say no attention by the state in particular. All those which are clubbed under this 'rare disease terminology' cannot be taken as one either. Each one or even each sub-type needs special attention on various areas such as kind of medical attention needed, investigation, diet requirement, surgical procedures and so forth. There may be support system provided in general to all rare diseases, but its equally pertinent to look at things in particular, only then would any initiative on this regard be justified. 
It has been well accepted worldwide that democracy is the best suited in its current form till this day, but its not its perfect form yet, needs further refining which at best incorporates everyone into decision making and attempts to blur the demarcation of 'majority' and minority.