AAP ki Sarkar is bound to Collapse: Kejriwal knows this and so does every party member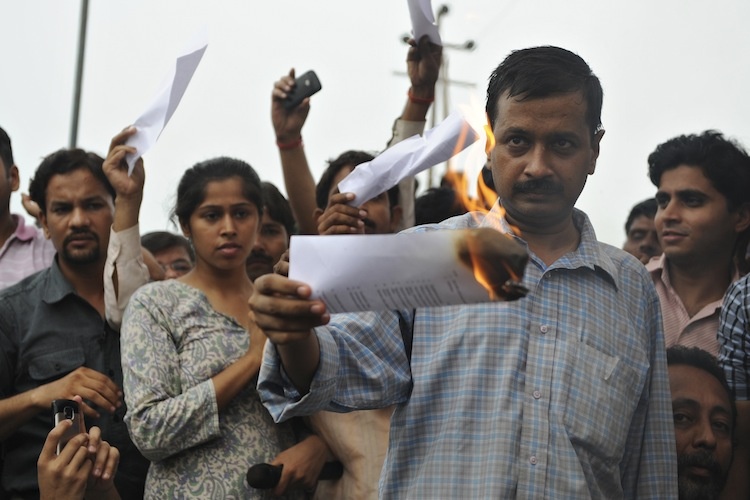 The recent move by the Aam Aadmi Party to "join hands" with the Congress has met with both support and criticism with a large section of Delhi population feeling betrayed by AAP for breaking their trust. Before this announcement was made, the "politically aware" youth of our nation were divided into two categories:
1)      The first group was that of the young generation brimming with nationalism and die-hard fans of Arvind Kejriwal. A small number from this group volunteered selflessly as part of campaigning team which was one of the major reasons for AAP's victory.
2)      The second group comprised of those "intellectuals" who always have the habit of analysing and over-analysing things. These people were always critical about Kejriwal making unrealistic promises (they are unrealistic indeed) and how their campaigning strategies with a peanut budget were never going to work out. They even overlooked the unfulfilled promises being made by Congress for the past 50 years. They tagged Kejriwal as a stupid fellow for challenging Sheila Dixit in her constituency. Showing political knowledge by being a critic of AAP is cool right?
Now, irrespective of how capable AAP is, the impossible happened. It was a one man show of Kejriwal who came to limelight two years back, made a party one year back and is now going to be the CM of National Capital. All the talkers must know that this is a Herculean achievement. And now after AAP's announcement on Monday, two different groups of political thinkers have emerged (not related to the previous groups):
1)      Group 1 feels immensely betrayed by AAP's decision to "join" Congress. How can Kejriwal take support of the corrupt Congressmen? He is just like any other politician!
2)      Group 2 feels he has taken the right decision. Without any party forming government, there would have been a hung assembly in Delhi, then re-election which would have been another hassle!
While these chit-chats and political debates are going on this is what analysts have to say:
The Government is bound to collapse and it is only a matter of time. Arvind Kejriwal knows this and probably wants this also. Why? Because sooner or later the Congress is going to withdraw its "unconditional/conditional/issue-based" support. Let's remind ourselves of some of the promises made by AAP in its 18 points agenda:
Opening of 500 government schools! How are they going to arrange so much land, infrastructure, teachers and money????
Reducing electricity rates by 50%.  That would cost nearly 4,000 crores INR per year on the Exchequer.
Providing 700 litres of waters daily for free! A burden of another 350 crores per year on the Exchequer.
Funds provided to each MLA will be spent directly by the local governing body known as the mohalla-sabah. Again how will AAP ensure that there is no corruption there?
Removing lal-batti culture enjoyed by politicians and top government officials and minimum security will be provided to each MLA. (the easiest to achieve!!)
Now in the present political scenario achieving most of these objectives is very very difficult. Two things can happen now:
1)      AAP implements policies to deliver the promises it had made. It will need money for that and has to move to the Central Government. Also big names of politicians and bureaucrats will come up including few Congressmen. They will resist and finally withdraw support.
2)      In second scenario it may turn out that AAP's promises are really unrealistic and impossible to fulfil. Kejriwal played dirty politics, gave false hope and now messing things up. Congress will be more than happy to blame AAP, and leave the coalition. AAP will in turn blame Congress for not allowing them to work and the blame-game will continue… Whatever! The Government will collapse.
Prashant Bhushan told to media, ""Considering the track record of the Congress in pulling down governments that it first supports, I think the (AAP) government may not last long. We are mindful of this fact. But if the Congress does so, so be it. It will have to answer to the people."
But mind it, in first case if there is re-election The Aam Aadmi Party is going to get more public support as they will get a very good opportunity to blame the Congress and the present BJP voters may want to give them a chance. In both the cases each party will blame one another and things are bound to turn ugly.