DIVYA DEEPA CHARITABLE TRUST: Vision of a Developed India through Education
Written by Shreyans Ranka for Techkriti Blog for a Cause Contest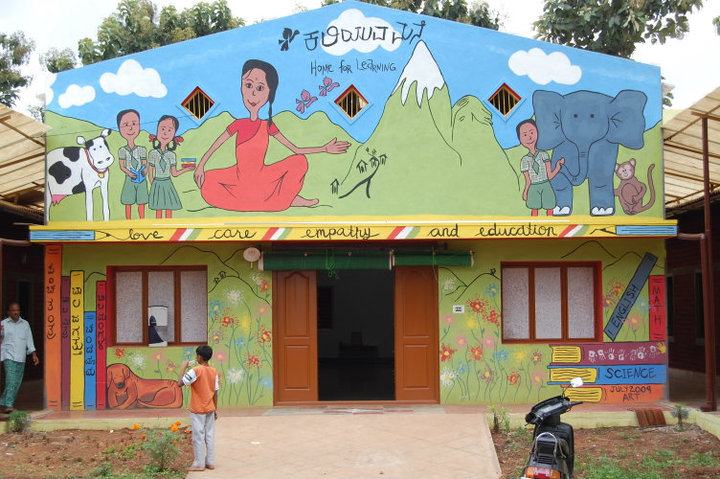 In 2007, Sunil,17, joined "Kaliyuva Mane", as he regained his lost interest in studies, 7 years after he had dropped out of school from class 4th. He started to learn from alphabets and numbers and in 2010, completed 10th standard in English medium. In 2013, he passed ITI.
Like Sunil, many other "OUT OF SYSTEM" children today are a part of an experimental school setup in 2005 at Kenchalagudu village on the outskirts of Mysore, Karnataka, started by Divya Deepa NGO; "Kaliyuva Mane"- a school that provides free education along with residential facilities. Rightly so as "kaliyuva" means learning and "mane" means home. The school caters to rural "Out of system" students- school dropouts, slow learners and the underprivileged children. It also supports post-metric education of deserving children.
Its grass root level work was started in August 1992 through free supporting classes. The NGO has continued to take up its research at the grass root level in this field with the help of its experimental school and has evolved a completely new education system. Some of the key features of this system are:
Frequent informal tests check the child's grasping power, and thereby their curriculum designed accordingly. Exams do not instill fear in child.
Child gets time to settle in and he can choose not to attend the classes immediately.
It is neither a Kannada medium nor an English medium school in a conventional sense.
Children are classified into dynamic groups based on their grasping level and knowledge. It is easier for the teacher to teach a homogeneous group.
Child gets to explore nature; no child feels tensed in this school.
Teacher-student ratios vary, can be 1:1 to 1:10. Teacher is like family, like brother or sister to the child.
The school has reached out to more and more children with passing years, growing from 14-odd students in 2005-06 to 105 in 2013-14.The school has not only provided children with their Right To Education (RTE) in spirit but also provides them with food and accommodation, treating the needy children with love, care and empathy.
The NGO is currently supported by a pool of large number of volunteers from all fields including engineering & medical institutes as well as business schools. Senior volunteers have also joined hands with NGO as it thrives to transform the lives of the children and bring about more transparency in running the organization.
The efforts of the organization has had attracted people like former president Mr. APJ Abdul Kalam and Infosys founder Mr. NR Narayan Murthy to the NGO's work , as they acknowledged its efforts to empower "The Forgotten India". Also Divya Deepa's "Education of the rural OUT OF SYSTEM children" idea won the 2nd prize in the grand finale of Mahindra & Mahindra SPARK THE RISE program for innovative ideas in development of nation.
Despite the efforts of this NGO of giving the education to the needy children in most innovative and righteous of ways ensuring their education with a better livelihood without any pressures and giving them their RTE, the NGO till date has failed to get recognition from the government!
Though it has failed to get government recognition, it certainly has all the recognition from people, children, families and eminent personalities and organizations.
Founded and inspired by the ideals of Sri Aurobindo and Swami Vivekanand, Divya Deepa a NGO driven by compassion, patriotism and spirituality, continues to transform its unique education system, & its experimental school "Kaliyuva Mane"; based on the philosophy" SCHOOL FOR CHILDREN" rather than 'children for school'"!!