Yada Yadahi Trollasya…
Originally published on Heartranjan's Blog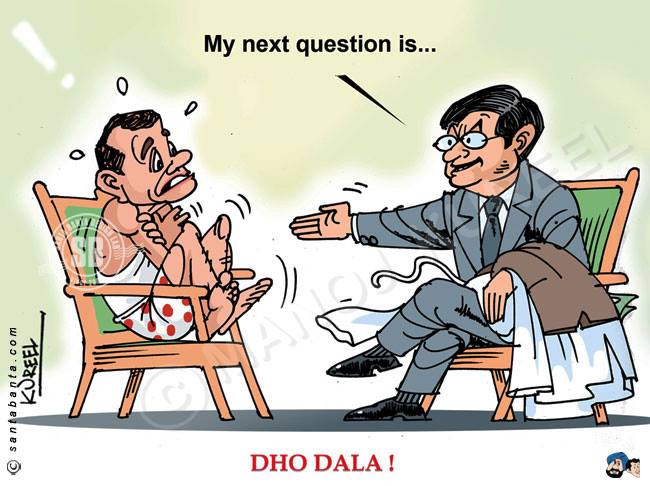 I'll be honest with you, I hadn't planned to write a blog on the Rahul Gandhi interview.
But like a wise one man once said, "Do not be afraid to take to battle, o warrior! There come moments in life, when you need to rise to the occasion and be an opportunistic bastard."
I knelt down on one knee, folded my hands, and bent my head.
So it has happened…
A 500 crore marketing blitzkrieg, in the final lap of the race, to jazz up the image of the prodigal son. And what a salmagundi of goof-ups it has been!
Firstly, let's spare a minute of silence for the Creative team. The guys who came up with the poster and the tagline for Rahul Gandhi's campaign. In one single masterstroke, they lifted the line from the Archenemy's own campaign.
'Very daring,' Inspector Jai Dixit would say. But those of us with a higher IQ will agree it wasn't the smartest thing to do. One would also assume that the entire Creative team was fired after the goof-up.
Overall, I think there was a fundamental flaw in placing the interview with Arnab Goswami. Why would you choose Arnab Goswami? It's like N. Srinivasan getting his son to debut for the Indian Cricket Team. In Sydney. Facing Mitchell Johnson.
Even though Arnab did not stand up, pull his hair out, and start throwing chairs, he is still Arnab Goswami. One can take the Goswami out of the Arnab, but one can't take the Arnab out of the Goswami.
After that totally meaningless statement, let me add that the other thing about Rahul Gandhi, and there is no subtle way to put it, is that he is seen more or less as an embarrassment.
Which is where Modi scores over him. In a major way. People are proud of being Modi fans. They will tattoo his name in unmentionable places and get their hair cut, and distribute chai on a Monday morning, and share links on Facebook.
But in most urban spaces, you wouldn't find a youngster wearing a 'I <3 Rahul' T-shirt. For all the money being pumped into the campaign, an interview with Arnab isn't enough to make RaGa 'cool'. It's almost embarrassing to say that one is a Rahul Gandhi fan.
Enough has been said about the contents of the interview. About Rahul repeating the same points over and over again, irrespective of the question being asked to him. I shall not waste any of your time on harping on the same point over and over again.
What baffles me however, is what really was done to jazz up his image? While Rahul is a joke in urban and internet spaces, the real deciders of the elections – the rural areas – still look at him as a scion of the Gandhi family. Was anything done to jazz up his image in rural areas? May be they have a picture of him pumping a tubewell in a green, grassy field. Or may be a picture of him seated on the floor, assembling a computer – part by part.
'Cos you know, 'the system needs to be opened up.'
One will never understand the ways of the Congress. One could also attribute it karma delivering a gigantic bitch slap on the party's face. All the crores and crores of corruption, coming back to bite them, in the form of a PR agency that siphoned away 500 crores in return for crap publicity work.
One will never know.
As a final message to the Congress, I have this suggestion:
Do not waste your money on PR agencies. Whoever did your PR for you did a terrible job. Even a Personal Interview trainer in IIPM will tell you that you mustn't slouch in an interview. Or look down, sideways, and upwards when you are being spoken to. Or that you mustn't call Ashok Chavan as Ashok Kumar. Thank God he didn't call Mamta Banerjee as Mamta Kulkarni, or she would have asked Bengalis not to inhale Oxygen, in protest.
What you need to do, Dear Congress Party, is get in touch with me.
I promise to charge a grand total of 1 crore.
No big deal. Three weeks – 1 crore. I have an intensive plan to brush him up, keep him war-ready for the coming elections. A rough draft of the plan is placed herewith below, for your kind perusal.
Morning (After Breakfast) – Brief history of India, aside from the immense contributions of the Gandhi family.
Afternoon (Post Lunch) – GK Refresher, quick quiz on facts and figures. (Since Sir might feel sleepy after lunch, this session will be light and peppy. Like Mandira Bedi's commentary).
Evening (Post Tea) – Public Speaking, Personal Interview, Body Language
Night (Post Dinner) – How to Piss Off Arnab Goswami
That is all that is needed, dear Congress party. Sign me up for it, and save yourself a few crores, and a truckload of embarassment.
It will change my life.
Or Rahul Gandhi's.
This article was originally published on Heartranjan's Blog… Don't forget to visit this site for more hilarious contents !!!!